A response of solidarity to emergency situations in Nepal
Created following the 2015 earthquakes in the Kathmandu valley, our association Nepal Care brought very quick help to the populations of the most remote villages thanks to our team on site in Kathmandu.
Since then, Nepal Care supports an orphanage, rebuilds schools and dispensaries every year by organizing solidarity workcamps with French and Nepalese volunteers, buys clothes, furniture and supports teachers for the children of the Sharminub institute thanks to your generosity and your involvement.
The whole team at Nepal Care would like to thank you for your incredible generosity which touches us so much, thank you for your words of encouragement, thank you for your initiatives to collect donations: sale of kiwis, yoga classes, meditation club, photo exhibition and many others, thank you to the volunteers for their extraordinary energy and good mood during the solidarity workcamps.
We thank you from the bottom of our hearts!
■ Some of our actions since 2015 :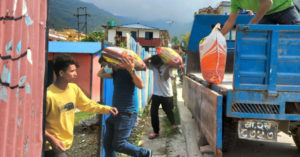 Food supply
Deliveries of food and basic necessities to people affected by the earthquake
Support to various orphanages in Kathmandu with non-perishable foodstuffs
Medical assistance
Donations of medicines for a clinic built in 2018
Purchase of medical equipment and barrier kits during the Covid 19 pandemic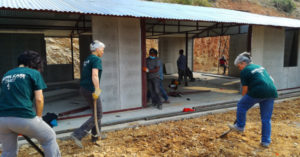 Humanitarian building projects
School construction in 2016 following the earthquake, and again in 2017 and 2018 in areas where children do not have access to education
2017: work to rebuild part of the Kathmandu orphanage that collapsed during the earthquake
2018 : construction of a clinic in Deurali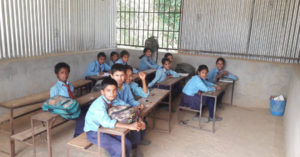 Support for education
Since 2017, Nepal Care has been helping the children of Sharminub. Help was given to them to furnish their dormitories, but also to provide them with school materials. Funds were also found to finance the salary of 2 teachers for 2 years.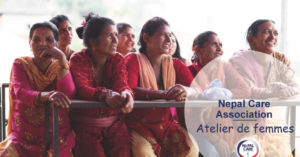 Economic support
Launched in 2019 of an economic support project for the women of Deurali around a project of manufacture and resale of handicrafts.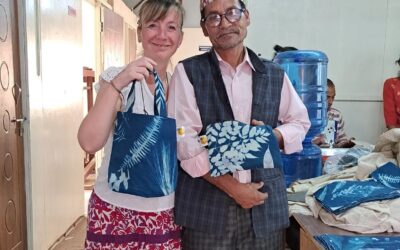 The partnership between Nepal Care and the Bleu Carotte brand is taking shape in Deurali.Our association has acquired professional sewing machines and 2 looms. A sewing trainer will stay in the village for a month to teach sewing to those who wish to learn. A first...

Nepal Care maintains a permanent basic rserve, destined for emergency funds in order to be able to rapidly intervene in cas of necessity.

Since 2016, Nepal Care has organized construction sites for schools with groups of french and nepalese volunteers.

Les enfants de Sharminub
Since the earthquake in 2015 the Sharminub Institute regularly receives children to assure their needs and their education.

Nepal Care supports an aorphenage in Kathmandu where 30 children ranging in age from 8 months to 16 years are housed and educated.
Newsletter
Restez en contact ! Suivez les actualités de Nepal Care en recevant notre lettre d'information.